Introduction
My name is William Stark and I am the creator of the Kid's Talk English learning series for preschool children ages 3 to 6. I created this program over 18 years ago due to what I felt was a lack of satisfactory learning materials available for the kindergarten classroom. I was in search of something that could be used in a classroom setting of 20 to 30 students that was not just age-appropriate but also also entertaining for both the students and teacher. I would appreciate a moment of your time to describe our materials in hope that it will be useful for your situation as well.
I understand that finding a good children's program is often a daunting task. In my experience I have found that the reason many kindergarten English programs fail is because of difficult and complex curriculums that are non age-appropriate and neither entertaining for the students nor the teachers. I feel that my program has uncovered the solution to that problem. Not just have our students over the years shown enthusiasm for our learning series but our teachers have praised our teaching methods and materials over the years, and parents as well.
Our goal in this 3-year program is the children's ability to interact in basic communicative English using age appropriate sentences, words and phrases. Over the years our teachers have continuously given satisfactory feedback for the program, citing its easy to use and well-structured format. Our series has also been continuously well received by our kindergartens and parents. We've been particularly proud of our success in the bigger classes of 20 to 30 children. Our program is currently being used by 20 kindergartens located in Asia and Europe.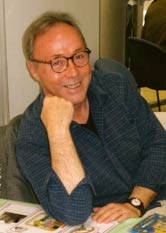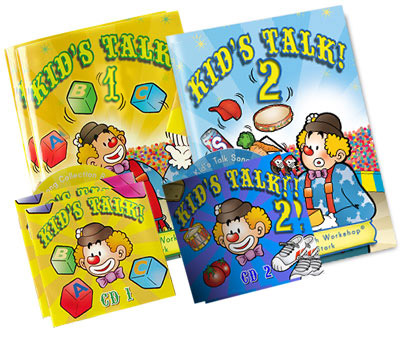 Our Materials
The key to the Kid's Talk learning program is the materials. Book 1 is for the three to four year olds and Book 2 targets the five to six year olds. Check out the CD with original Kid's Talk songs! There are also additional learning materials and games!
see it in action
Check out this video which will show you how the books and the songs work in a classroom environment!
Listen to the songs
Do want to hear one or more of the original songs especialy written and recorded for Kid's Talk? Just jump over to CD baby or iTunes and pick a track!